"Opportunity is quick to pass on, and slow to come back."
                Imam Ali (a)          Mizanul Hikmah
Salaamun Alaykum,
We send our condolences to the Imam of our time, Imam Mahdi (may Allah hasten his re-appearance) and to all believers on the wafat of our beloved Prophet Muhammad (may peace be upon him and his family).
Please note that this Sunday, there will be a ladies majlis at Zainabiya Hall at the same time as our classes, so ensure you drop children via Gate of Sadiq (Door #6) and arrange pickup from the same door.
This update includes:
1. 3rd Day of Classes – Sept. 25
2. Oct. 2nd Parents Meet & Greet
3. Key Upcoming Dates
3rd Day of Classes – Sept 25
Quran Recitation Placements:  InshaAllah, we'll begin placing students based on Quran recitation level starting this Sunday… this will be done for Quran 2 period and will take a couple of weeks to stabilize. When students are dropped off, they should still go to the classroom per registration confirmation, based on age. Students in grades 5-12 who are not at recitation level 10 will inshaAllah be invited for Quran Tutoring sessions to be held on weekdays; an e-mail will be sent to parents
Student Absences: to report a student absence, please send an e-mail to the Quran and Dinyat teachers using the class e-mail id, and cc: admin@al-haadi.ca.  The convention for class e-mail id is xyz@al-haadi.ca, where x= D for Dinyat or Q for Quran, y=grade, and z=A or B per registration confirmation e-mail.  E.g. d3b@al-haadi.ca is for Dinyat Grade 3, class B, and q7a@al-haadi.ca is for Quran Grade 7, class A. Note that even if you have sent the e-mail, you will still receive an automatic notification from the database due the system function; you may ignore the automatic notification.
If your child is not feeling well, please do not bring child to classes; keep up with the lessons/assignments via Google Classroom announcements.
Drop-off:
Classes start at 10:45 am; door # 6 open from 10:30 am.
All students to enter and exit from Gate of Sadiq (a) Door 6; After entering the building:
– Grade 1-3 students go to classes on main floor.
– Grades 4 & 5 Boys and Girls to use stairwell #1 (near gate 1) to go to 2nd floor.
– Grades 6-12 Boys to walk through the Atrium, place shoes near AV room, enter Zainabiya hall, and sit on left of partition, at space designated for the grade.
– Grade 6-12 Girls to walk towards stair #1 and enter Zainabiya hall from ladies cloakroom and sit on right side of partition, at space designated for the grade.
Pickup:
Grades 1-3: Parents to up child(ren) from main floor classrooms at 2:15 pm.
Grades 4-12: Pickup from Gate #6 at 2:30 pm. Please arrange a meeting spot so there is no confusion.
Volunteers have other commitments too, so kindly pick up latest by 2:40 pm. If a student needs to leave early parent to send a note for Teacher and go to Coordinators' desk for pickup.
Google Classrooms are being used for announcements, lesson material, and assessments. Invites to Google Classrooms (GC) have been sent for Grades 1-12 students registered by Sept. 17th. Student e-mail id was invited if it was provided during registration; if not, invite has been sent to parent's email id.  Please ensure you/your child accept the invite as soon as possible to read Teacher's announcements, etc. If you haven't received an invite check in spam/junk folder.  Invites to students who registered after Sept. 17th will receive invites in the coming week.
If you need to change the e-mail id used for GC invite, please do both of the following; failure to do the 2nd step will impact future mailings:
Send a request to the Teacher via class e-mail id, xyz@al-haadi.ca, where x= D for Dinyat or Q for Quran, y=grade, and z=A or B per registration confirmation e-mail.  E.g. d3b@al-haadi.cais for Dinyat Grade 3, class B, and q7a@al-haadi.ca is for Quran Grade 7, class A. Subject: "GC Invite change". Include the student's full name, current email id, new e-mail id to be invited. We can only invite one e-mail id per student.
Update parent/student record in parents portal (al-haadi.ca).
Supplies & Lunch: please review the guidelines in Student Planner, pack writing supplies and a healthy peanut/ tree nut free lunch to avoid impacting students with allergies; Tree nuts includes cashews, almonds, etc. Nutella and sesame seeds are also not allowed. We are currently not providing lunch but are looking into the feasibility of offering pizza lunch option in the future.
Cellphones:  Students are not allowed to use cellphones between 10:45 am – 2:30 pm.  If you have an urgent message for your child, call the office line at 905-695-1587. Teachers will keep the phone until end of classes if a student does not adhere to the no cellphone use policy.
Dress code: Boys – long sleeves & long pants; baligha girls: head covering and abbaya; see additional info in Student Planner.
Oct 2 Parents Meet & Greet
All parents are cordially invited to participate in our Meet & Greet session inshaAllah, on Oct. 2nd at 9000 Bathurst. We're planning informative sessions on our programs and curriculum and how we can partner for success.  Sessions will be held at Marhaba Hall, coincide with when your children are in classes, and you will have an opportunity to meet Teachers. Refreshments will be served. Kindly submit the sign-up form by Tuesday Sept. 27th regardless of whether you will be able to attend or not so we can plan accordingly.  Depending on # of parents who plan to stay for session after Jamaat salaat, we may schedule a different topic.
Link to Oct. 2nd Parent's session sign-up form: https://forms.gle/xyvKyuEJKMZx8guH6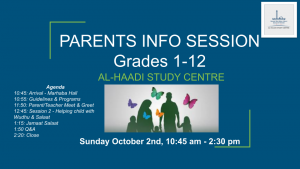 Key Upcoming Dates
Sept. 25: Placement of students in Quran recitation class based on recitation level
Oct. 2: Parent/Teacher Meet & Greet (9000 Bathurst) 10 45 AM – 2:30 pm.
If you have any questions or suggestions, kindly send an e-mail to admin@al-haadi.ca.
JazakAllah,
Fatima Khimji    &     Amjad Datoo
Principal                    Vice Principal
Al-Haadi Study Centre
www.al-haadi.ca
Instagram: @alhaadistudycentre
AHSC Tech Support/Suggestion form: https://forms.gle/7yrnM2M8FVZCWaSQ8
AHSC Volunteers Application form: https://forms.gle/MW3STaio5PkC9Q6N8