"Opportunity is quick to pass on, and slow to come back."
Imam Ali (a)       Mizanul Hikmah
Salaamun Alaykum,
Alhamdulillah, we had a very good start last Sunday back onsite after 2 years. Many thanks to Our Very Dedicated and Hardworking Teachers and Admin Staff for all the preparations. Many thanks also, to all students, parents, and volunteers who provided very helpful feedback.
Based on feedback that the classes are too long for young students, the timetable has been revised to end classes at 2:15 pm for Grades 1-3. We will also try to incorporate outdoor time as appropriate.
MashaAllah, we are blessed to have a seminar, on Sunday, Sept. 18 by Aaalima Razia Batool Najafi for Grades 6-12 boys and girls during the Quran period in Zainabiya Hall. See flyer for more info.
This update includes:
1. 2nd Day of Classes – Sept. 18
2. Islamic Fundamentals Test
3. Covid-19 Safety Protocols
4. Key Upcoming Dates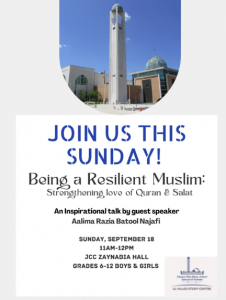 ________________________________________
2nd Day of Classes – Sept 18
Drop-off
Classes start at 10:45 am; door # 6 open from 10:30 am.
All students to enter and exit from Gate of Sadiq (a) Door 6; After entering the building:
– Grade 1-3 students go to classes on main floor.
– Grades 4 & 5 Boys and Girls to use stairwell #1 (near gate 1) to go to 2nd floor.
– Grades 6-12 Boys to walk through the Atrium, place shoes near AV room, enter Zainabiya hall, and sit on left of partition, at space designated for the grade.
– Grade 6-12 Girls to walk towards stair #1 and enter Zainabiya hall from ladies cloakroom and sit on right side of partition, at space designated for the grade.
Pickup:
Grades 1-3: Parents to up child(ren) from main floor classrooms at 2:15 pm.
Grades 4-12: Pickup from Gate #6 at 2:30 pm. Please arrange a meeting spot so there is no confusion.
Volunteers have other commitments too, so kindly pick up latest by 2:40 pm. If a student needs to leave early parent to send a note for Teacher and go to Coordinators' desk for pickup.
Google Classrooms are being used for announcements, lesson material, and assessments. Invites to Google Classrooms (GC) have been sent for Grades 1-12 students registered by Sept. 12th. Student e-mail id was invited if it was provided during registration; if not, invite has been sent to parent's email id. Please ensure you/your child accept the invite as soon as possible to read Teacher's announcements, etc. If you haven't received an invite check in spam/junk folder. Invites to students who registered after Sept. 12th will receive invites in the coming week.
If you need to change the e-mail id used for GC invite, please do both of the following:
1. Send a request to the Teacher via class e-mail id, xyz@al-haadi.ca, where x= D for Dinyat or Q for Quran, y=grade, and z=A or B per registration confirmation e-mail. E.g. d3b@al-haadi.ca is for Dinyat Grade 3, class B, and q7a@al-haadi.ca is for Quran Grade 7, class A. Subject: "GC Invite change". Include the student's full name, current email id, new e-mail id to be invited. We can only invite one e-mail id per student.
2. Update parent/student record in parents portal (www.al-haadi.ca).
Supplies & Lunch: please review the guidelines in Student Planner, pack writing supplies and a healthy peanut/ tree nut free lunch to avoid impacting students with allergies; Tree nuts includes cashews, almonds, etc. Nutella and sesame seeds are also not allowed. We are currently not providing lunch but are looking into the feasibility of offering pizza lunch option in the future.
Cellphones: Students are not allowed to use cellphones between 10:45 am – 2:30 pm. If you have an urgent message for your child, call the office line at 905-695-1587. Teachers will keep the phone until end of classes if a student does not adhere to the no cellphone use policy.
Dress code: Boys – long sleeves & long pants; baligha girls: head covering and abbaya; see additional info in Student Planner.
________________________________________
Islamic Fundamentals Test – Sept. 18
Please note the following revised plan regarding Islamic Fundamentals test for Grades 5-12 since we don't have enough devices for all students to do the test onsite.
1. Grade 12 students will write the test in class, on Sunday, Sept 18.
2. Grades 5-11 students will be assigned the test via Google Classrsoom with a due date of Sunday, Sept. 25. Parents are requested to set aside about 45 min sometime this week and supervise the child(ren) to do the test via Google Classroom. Note that this is a closed book test and child should do it without any assistance. Students need to 'turn in' the test when completed.
3. Study material is available in Dinyat Google Classroom and pages 41-53 of the Student Planner posted www.al-haadi.ca.
4. Passing mark is 80% + for Grade 12 (Youth Forum Graduation requirement) and 60% + for Grades 5-11.
________________________________________
COVID-19 Safety Protocols
We are grateful to As-Sadiq IS for sharing the protocols which we have adapted for our Study Centre):
• We will need full parent co-operation in order to best protect our students, staff and their families.
• Screening: Parents are strongly encouraged to screen children prior to drop-off at Al-Haadi Study Centre. If your child has any symptoms or has come into contact with someone who has tested postive Covid-19, he/she should not attend classes. Any ill or symptomatic children will be sent home.
• Masking: Masks will be optional, though staff and students are encouraged to wear a mask (particularly when in close proximity with others). As a precaution, students must have a surgical mask in their bag in the event that there is a possible or definitive COVID-19 exposure.
• Social Distancing and Cohorts: Classes may be required to practice physical distancing in the event of a COVID-19 outbreak.
• Vaccinations: Staff and students are not required to have the COVID-19 vaccine, though vaccination remains highly encouraged to prevent severe disease. Vaccination status will not impact participation in school-related activity.
• Positive COVID-19 Exposure: Every effort will be made to keep classes open. In the event of a COVID-19 exposure, the classroom will remain open, but staff and students will be required to wear masks for 10 days from the last exposure. In the event of an outbreak (3 or more linked cases in a classroom), the COVID-19 Taskforce will recommend next steps (e.g., distancing measures or isolation).
• Hand sanitization will be mandated upon entry and exit from classrooms.
• The plan is fluid and may be modified based on Provincial mandates or Covid-19 situation over the year.
________________________________________
Key Upcoming Dates
Sept. 18: Islamic Fundamentals test for G12, Being a Resilient Muslim Seminar (G6-12). Submit forms in Student Planner, e.g. allergies, waiver, etc.
Sept. 25: Placement of students in Quran recitation class based on recitation level
Oct. 2: Parent/Teacher Meet & Greet (9000 Bathurst) 10 45 AM – 12:30 pm.
________________________________________
If you have any questions or suggestions, kindly send an e-mail to admin@al-haadi.ca.
JazakAllah,
Fatima Khimji & Amjad Datoo
Principal Vice Principal
Al-Haadi Study Centre
www.al-haadi.ca
Instagram: @alhaadistudycentre
AHSC Tech Support/Suggestion form: https://forms.gle/7yrnM2M8FVZCWaSQ8
AHSC Volunteers Application form: https://forms.gle/MW3STaio5PkC9Q6N8