Achievement of glorious feats is through performing noble deeds." Imam Ali (as) reference: al-islam.
Salaamun Alaykum,
Eid Mubarak to you and your family. We hope everyone is well and having an enjoyable summer.
This updates includes:
1. 2021/2022 Registration Launch & Plans
2. Housekeeping items from 2020/2021 academic year.
3. Management Committee Update
4. Volunteer Recruitment
2021/2022 Registration Launch & Plans
Alhamdulillah, with the grace and blessings of Allah (swt), we are ready to launch registration for the 2021/2022 madrassah year.
Classes will be virtual for Sept – Jan. and we'll assess if it is safe to return onsite for Term 2.
Class sizes will be limited, and registrations will be processed on a first come, first served basis.
Priority will be given to returning students until August 14, 2021.
Registration will close on August 28, 2021.
A registration e-mail with login id will be sent to parent e-mail ids in our database.
Registration process for returning students: click here
Registration for new students: click here to download form. A child needs to be 5 years old by Dec. 31st, 2021 in order to register for Grade 1.
We will only be accepting residents of Toronto as classes may move onsite in Term 2.
See website for calendar, timetable, and other documents.
If you have any questions about registration, please send an e-mail to registration@al-haadi.ca.
If you would like hardcopy of Quran textbooks for students registering for Grades 1-11 and/or Dinyat workbooks for Grades 1-4 students, please click here & submit the book pickup registration form by August 14th so we can print sufficient copies and arrange a drive thru at JCC (9000 Bathurst) inshaAllah, on Saturday, Sept. 11th. 11:30 am – 1 pm.
Save the date: Parents Info Session on Friday, Sept. 10th 9-10:30 PM.
Housekeeping items from 2020/2021:
1. Awards and Graduation took place online on June 28th and Reports Cards were made available online on our website at www.al-haadi.ca. We do hope you all had a chance to look at your child's report card and have reached out to their respective teacher(s) if you wished to discuss your child's report card. Teacher email IDs can be found on the report cards.
3. End of the year gift vouchers are being mailed/delivered to active students and staff using address on record. Please note that the vouchers will expire on Dec 31st 2022 and that the vouchers can only be used at the specific locations listed on the voucher. If you haven't received any vouchers by August 9th, please send an e-mail to admin@al-haadi.ca, subject: Missing Gift Vouchers, to arrange pickup.
4. Honor Certificates for students and Service Excellence Awards are being emailed to recipients.
Management Committee Update
Many, many thanks to all our volunteers for a successful year. Also, many thanks to the Management Committee (Sisters Shelina Dhalla, Sukaina Jaffer-Fazal, Fatma Khalfan, and Fatima Khimji, and Brothers Suhail Ravjani and Hussein Alibhai) for their efforts these past four years. We are blessed that some of us are able to return in new roles for the upcoming term. See below for Management Committee for 2021-2024 term.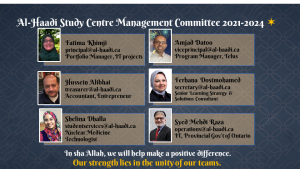 Volunteers Recruitment
We are looking for teachers and admin volunteers to join our dynamic team and help make a difference. Training will be provided. See flyer below for available roles.
If you are interested or would like to learn more, please email us:
email address: secretary@al-haadi.ca
Subject: Volunteering Opportunity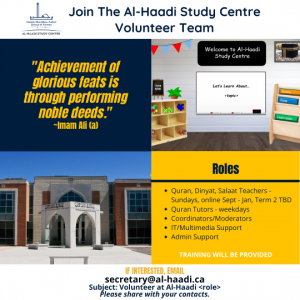 We look forward to seeing everyone again in September.
Have a wonderful summer and stay safe!
All our previous updates can be seen at www.al-haadi.ca
Jazakallah,
Fatima Khimji & Amjad Datoo
Principal Vice Principal
Al-Haadi Study Centre
www.al-haadi.ca