Achievement of glorious feats is through performing noble deeds." Imam Ali (as) reference: al-islam.
Salaamun Alaykum,
There will be NO Classes this Sunday! Everyone is cordially invited to join The Awards Day on Tuesday June 29th, 7pm Online via Zoom. Details are below.
With the grace and blessings of Allah, we have Alhamdulillah, come to the end of the 2020/2021 year.Our drive-thru graduation ceremony is taking place today for the grads and family. Our Virtual Awards Day is taking place on Tuesday June 29th, 7pm via Zoom webinar.
We encourage you all to participate in the As-Sadiq organized event – OASIS AMAZING QUEST taking place on Sunday June 27th from 10am-5pm at JCC. The event is open to the entire community.
Al-Haadi Virtual Awards Days set for Tuesday June 29th at 7pm via Zoom webinar
Al- Haadi Awards and Graduation Ceremony
Zoom link: https://zoom.us/j/97189916631?pwd=UEZLOTVwR3RxbEgrMmVqdDJkTUlmdz09
Zoom ID: 971 8991 6631
Passcode: 408983
Come and join us as we celebrate Student Achievement, Introduce the newly elected Management Team and share the year's happenings as well as Parents and Teachers perspectives as we continued to adapt to Online learning and get ready to go back in person soon inshallah.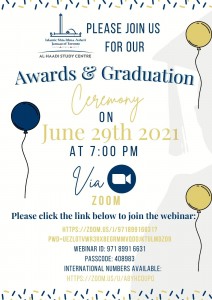 Drive-thru Graduation!
We are excited to offer Drive-thru graduation for our grads and families on Saturday June 26th.
Special Invites were shared with each graduate to attend the Drive-thru graduation event along with family members that live in the the same household. We look forward to seeing the grads later today.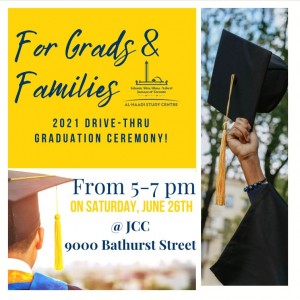 End of the Year Tokens for Students and Volunteers:
Grade 1-4 and Community Class – End of Year gifts were delivered/ are being delivered.
Grade 12 students to receive their grad plaques and end of year gifts at the Drive thru Graduation Day on June 26th at JCC Grades 5-11 will receive their gift vouchers in the mail
Teachers and Admin to receive their gift vouchers in the mail as well as appreciation certificates.
The two TOP classes that contibuted the most towards the Yemen Campaign will be sent an additional Al-Haadi Voucher.
If you do NOT received the above items by July 30th the latest, please let us know
Parents Feedback Survey:
Kindly provide your feedback using the link below so we can improve the learning experience at Al-Haadi
https://forms.gle/wfQjzQBqAiWxW3tPA
End of The Year Gift Vouchers:
We will be mailing gift vouchers to all students and teachers once again via mail. If you have moved since September kindly update al-haadi.ca using your family ID and password. The gift vouchers that were mailed last year expire on Dec 31st 2021, kindly use them up if not done so already.
Registrations for Next Year:
Registration for the year 2021/22 will begin in August 2021. Please visit www.al-haadi.ca for updates and we shall also send out a registration reminder to all current parents via Al-Haadi and ISIJ communications
Coding Session for Students over Summer 2021:
Al-haadi admin is offering a Coding program for students 13 and higher. Please sign up at https://tinyurl.com/learnToCode2021. More details in the flier below.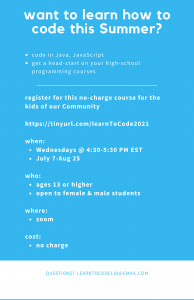 Al-HAADI CHARITY FOR 2020/2021- SAVE A LIFE IN YEMEN..
While donating online mention Al-Haadi and your child's dinyat class eg (AH D3B) under additional notes so we can track Al-Haadi donations by class.
Mashallah! You are making a Difference each week!!
IA with the year ending, we shall be closing the Yemen Campaign Initiative
Donate here to help support lives in Yemen through The Zahra Foundation.
LAST DAY FOR SUBMISSIONS IS JUNE 30TH 2021
You've probably seen images on the news or on social media of the worsening famine situation in Yemen. They are troubling. You can help..
Remember every $175 you contribute supports a family of 7 with clean water, medicine, food for 1 month. In the name of Lady Fatima S.A. donate whatever you can to help alleviate the suffering.
Donate online here and IMPORTANT: remember when you check out to enter 'Al-Haadi' and your child's class (e.g. D3B) in the Additional Information section, so we can track donations by class.
All donations will receive a tax receipt.
The winning class will win a prize!
Email admin@al-haadi.ca
Here's the Leaderboard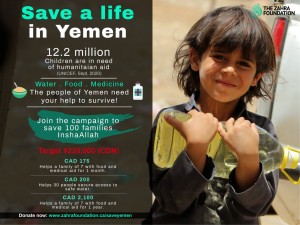 COMMUNITY OUTREACH OPPORTUNITIES:
Sign up for The Amazing OASIS AMAZING QUEST at https://docs.google.com/forms/d/e/1FAIpQLSe4Ex9186g1-lFi7S3B6PfkIWNYUjMimgM8llvTXvYdKY6u-A/viewform Open to all! Join with your families.
www.jaffari.org/childrensmajalis
The Children's Majalis Program for Muharram 1443/2021 is calling all reciters between the ages of 5-8 to send in pre-recorded videos for the Majalis program this year. Choose from recitation of Nawhas, Sura, Hadith e Kisa and Ziyarat. Please view the flier for more details. Registration will start Thursday, June 17th, 2021
All our previous updates can be seen at www.al-haadi.ca
Jazakallah,
Shelina Dhalla & Fatima Khimji
Principal Vice Principal
Al-Haadi Study Centre
Visit www.al-haadi.ca