Achievement of glorious feats is through performing noble deeds." Imam Ali (as) reference: al-islam.org
Salaamun Alaykum,
This update includes:
1. Timetable Change effective Nov. 7
2. Introducing our awesome Student Council
3. Challenge Zone (Milad un Nabi Challenge results & Student Volunteering Opportunities)
4. Key Upcoming Dates
Timetable change effective Nov. 7
InshaAllah, we will all be turning the clocks back by one hour, tonight.  The timetable for Grades 1-4 will remain as is, however, the schedule for Grades 5-12 will be adjusted to enable students and staff to recite salaat on time.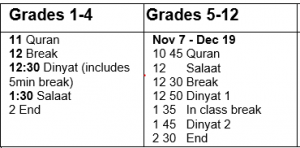 Kindly ensure all students join the classes on time.
Introducing our awesome Student Council
Please join us in congratulating students who have accepted a position on the Student Council Team of 2021-2022 ~ Our Voice is Our Strength. 
As an integral part of the Student Council, the students will connect the Al-Haadi Community together.  They will do this by planning and hosting fun events, supporting important causes, and striving to make a  difference in Student life! They will represent their class, share their ideas, collaborate on projects, voice their opinions and lead by example.
InshaAllah, the 1st 2021-2022 Student Council meeting will be held this Sunday, Nov. 7th at 3 pm; zoom meeting room info has been shared with the Student Council team.
Many thanks to Sister Shelina Dhalla, Director of Student Services, Sister Fatma Khalfan, and Brother Ali Manji, and all teachers for their efforts to nominate and encourage students and establish this year's Student Council.
We look forward to a great year ahead!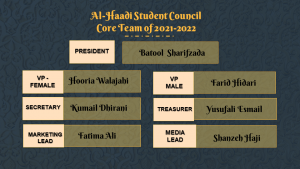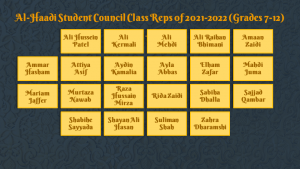 Challenge Zone
Milad un Nabi Challenge Results
Students had been asked to submit the following by Oct. 31st:
PRIMARY (Grades 1-4):
Picture: Draw one act of kindness that you have learnt from the life of the Holy Prophet (saw).
SECONDARY (Grades 5-12):
Draw or use media to create a picture which can be used as a virtual background, which showcases the Holy personalities whose birthdays we are celebrating.
Good job to all students who participated in the challenge.
The class results are in!  Congratulations to the following classes who had the highest participation %; students in these classes will receive additional reward stamp.
Quran classes:  Q2B and Q3B
Dinyat classes: D2A, D3B and D7A 
Student Volunteering Opportunities (Grade 9 and up):
The following volunteering positions are available.  Parents, please encourage your child(ren) to apply. Effort will count towards Community Service hours for school as well as Al-Haadi Study Centre's Community Service Award.
To apply, students 14 years and over should submit the Volunteer Application Form ; specifying the Quran class and position in the Comments question.
Link to Volunteer Application Form: https://forms.gle/MW3STaio5PkC9Q6N8
Students in Grades 9-12:
Position: Scriptwriter, Storyboard Media, or Videographer to join the Adventures of Haadi Family Weekly Challenge Project team (3 openings)
Time commitment: 1 hour per week
Students in Grades 10-12, including Quranic Arabic class:
Position: Quran Tutor (5 openings)
Qualifications:
– must have received EA for Quran Recitation in 2020/21 report card, and be assessed in advanced level in the most recent Quran recitation assessment.
– minimum commitment of 50 min. (5:40 pm – 6:30 pm), at least 1 day a week until Dec. 31, 2021.
– virtual, via zoom
– training will be provided.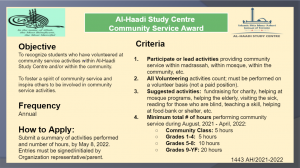 Key Upcoming Dates:
Nov. 7: Timetable change
Nov. 7: Quran Recitation Assessment (Grades 5-11); if your child will be absent, please contact the teacher to arrange an alternate assessment time.
If you have any questions or suggestions, please send an e-mail to admin@al-haadi.ca.
JazakAllah,
Fatima Khimji    &     Amjad Datoo
Principal                   Vice Principal
Al-Haadi Study Centre
www.al-haadi.ca