Achievement of glorious feats is through performing noble deeds." Imam Ali (as) reference: al-islam.org
Salaamun Alaykum,
This update includes:
1. Challenge Zone: Milad un Nabi challenge due Oct. 31
2. Quran Tutoring Program
3. Heads up: timetable change (effective Nov. 7)
4. Key Upcoming Dates
Challenge Zone – encourage child(ren) to get involved
Milad un Nabi Celebration:
Students to upload in Google Classroom or send via e-mail to class e-mail id by end of day, Sunday, Oct. 31st:
PRIMARY (Grades 1-4):
Picture: Draw one act of kindness that you have learnt from the life of the Holy Prophet (saw).
SECONDARY (Grades 5-12):
Draw or use media to create a picture which can be used as a virtual background, which showcases the Holy personalities whose birthdays we are celebrating.
Each student who participates will receive a mashAllah reward stamp.  Students in 2 classes with the highest participation will receive additional reward stamps.
Let us celebrate Rabi-ul-Awwal with a blast!
Quran Tutoring Program
Last August we began a pilot program to provide Quran Tutoring for students who needed extra help (based on last year's results).  Alhamdulillah the pilot, consisting of 45 min. virtual weekday tutoring sessions, has been successful, and we will, inshaAllah, continue for the next few weeks, based on availability of volunteer Tutors.  In the coming days, parents of students in Grades 5-11 needing extra coaching based on Quran Recitation assessments, will be sent an e-mail with an opportunity to sign up for this optional program. Many thanks to the volunteers who are investing their time and effort on this program.
Heads Up:  Timetable change effective Nov. 7
InshaAllah, we will all be turning the clocks back by one hour, on Nov. 7th.  The timetable for Grades 1-4 will remain as is, however, the schedule for Grades 5-12 will be adjusted to enable students and staff to recite salaat on time.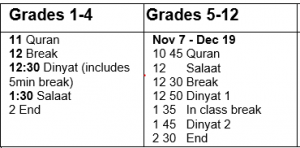 Key Upcoming Dates:
Oct. 31: Milad un Nabi Celebration challenge due
Nov. 7: Timetable change & Quran Recitation Assessment (Grades 5-11)
If you have any questions or suggestions, please send an e-mail to admin@al-haadi.ca.
JazakAllah,
Fatima Khimji    &     Amjad Datoo
Principal                   Vice Principal
Al-Haadi Study Centre
www.al-haadi.ca