Achievement of glorious feats is through performing noble deeds." Imam Ali (as) reference: al-islam.org
Salaamun Alaykum,
Alhamdulillah, classes are going well and we are grateful to parents who are helping children join the online classes.  Please do encourage your child(ren) to turn on the video as it facilitates a more engaging experience.  Our dedicated Teachers are continuing to look for ways to engage students through interactive activities.
As mentioned at start of madrassah year, we will assess in Dec/Jan timeframe whether we can return to onsite classes in Term 2 (February). Since our classes would be held at JCC (9000 Bathurst), we are obtaining information from ISIJ on the protocols we all (students, parents, and volunteers) will have to follow and assess our ability to conduct safe and effective classes with the available volunteers. InshaAllah, we'll provide more info on this in the coming weeks. If you have a strong preference one way or the other, please share your thoughts via e-mail to admin@al-haadi.ca, subject: Online or Onsite.
This update includes:
1. Al-Haadi Student Council Charity Initiative
2. Report Cards Suggestions
3. Challenge Zone (Student Volunteering Opportunities)
4. Key Upcoming Dates
Al-Haadi Student Council Charity Initiative
In collaboration with Az-Zahra Foundation, Al-Haadi Student Council would like to launch this year's Charity! We pledge to provide WATER AID in remote areas where there is no water and we pledge to SUPPORT ORPHANS, WIDOWS & VULNERABLE CHILDREN.
Kindly discuss the charity with your family and friends and participate via donations. The donations will be tracked by dinyat class and donation receipts will be emailed instantly when you donate online at the link below.
When you check out, in the 'Additional Information section', enter 'Al-Haadi' and your child's dinyat class e.g. 'Al-Haadi D3B', so we can track donations by class. You can choose to donate any amount or select from the options suggested on the site. No amount is small…and each one of us can make a huge difference inshaAllah. Click on the below link for details.
https://zahrafoundation.ca/al-haadi/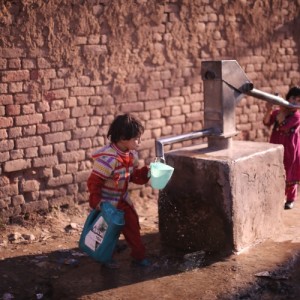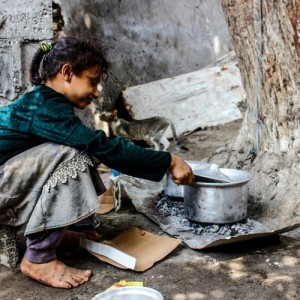 Report Cards Suggestions
We are preparing for Term 1 report cards which will inshaAllah, be issued on Feb. 6, 2022.  If you have any suggestions for changes to the format or content of report cards, which are made available by logging onto www.al-haadi.ca, please submit them by Dec. 5th using the link below and selecting Category 'Report Cards'.  This link can now also be used at any time to submit requests for technical support or any suggestions.
AHSC Tech Support/Suggestion form: https://forms.gle/7yrnM2M8FVZCWaSQ8
Challenge Zone
Student Volunteering Opportunities (Grade 9 and up):
The following volunteering positions are available.  Parents, please encourage your child(ren) to apply. Effort will count towards Community Service hours for school as well as Al-Haadi Study Centre's Community Service Award.
To apply, students 14 years and over should submit the Volunteer Application Form ; specifying the Quran class and position in the Comments question.
Link to Volunteer Application Form: https://forms.gle/MW3STaio5PkC9Q6N8
Students in Grades 9-12:
Position: Scriptwriter, Storyboard Media, or Videographer to join the Adventures of Haadi Family Weekly Challenge Project team (3 openings)
Time commitment: 1 hour per week
Students in Grades 10-12, including Quranic Arabic class:
Position: Quran Tutor (5 openings)
Qualifications:
– must have received EA for Quran Recitation in 2020/21 report card, and be assessed in advanced level in the most recent Quran recitation assessment.
– minimum commitment of 50 min. (5:40 pm – 6:30 pm), at least 1 day a week until Dec. 31, 2021.
– virtual, via zoom
– training will be provided.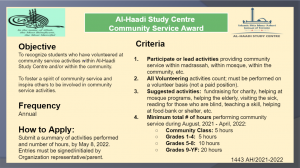 Key Upcoming Dates:
Dec. 5: Submit suggested changes for report cards
Dec. 10: Heads up: Milad on Friday night hosted by Student Council to celebrate Wiladat of Lady Zaynab (a); to be confirmed
Dec. 26: Closed for Winter Break
Jan. 2: Closed for Winter Break
If you have any questions or suggestions, please send an e-mail to admin@al-haadi.ca.
JazakAllah,
Fatima Khimji    &     Amjad Datoo
Principal                   Vice Principal