Achievement of glorious feats is through performing noble deeds." Imam Ali (as) reference: al-islam.
Salaamun Alaykum and Milad-e-Sadiqain Mubarak to all
Regular classes continue on Oct 24th with festive spirit!
This Sunday falls exactly on the Birth anniversary celebrations of the 2 of our holy personalities:  Holy Prophet's and Imam Sadiq (a.s). In that spirit we are encouraging all students to celebrate this occasion by participating in the following activities:
Virtual Background: Have a virtual background during the class with your video on that has show cases the birthday occasions of the Holy personalities we are celebrating
Girls: wear green shelas/scarves
Boys: wear white Kanduras/Kanzus and /or caps
Each student who participates will get mashAllah stamps
The 2 classes with the maximum number of students will get additional awards.
Bring your festive spirit to the class and celebrate this occasion with a blast!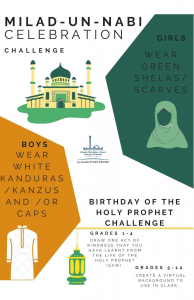 If you have any questions, please send an e-mail to admin@al-haadi.ca.
JazakAllah,
Fatima Khimji    &     Amjad Datoo
Principal                   Vice Principal