"Opportunity is quick to pass on, and slow to come back."
                     Imam Ali (a)    Mizanul Hikmah
Salaamun Alaykum,
We wish everyone a blessed Eid ul Adha.
Many thanks to all students, parents, and volunteers who helped and/or attended the June 26th year end awards & graduation celebration. Congratulations to the 38 Graduates and the many students who won medals, honors certificates, trophies, and the Community Service Award.
Medals, honors certificates and/or trophies for students who could not attend the awards event nor made arrangements to pickup, will be given to the students, inshaAllah, in September.
Highlights of the past school year and plans for 2022-2023  can be viewed by clicking on the link below.  The highlights & plans document has been posted on our website, www.al-haadi.ca. (see Documents section on the right side). Please review the plans for next year and send an e-mail to admin@al-haadi.ca if you have any questions.
Link to 2021-22 Highlights & 2022-23 Plans: https://al-haadi.ca/wp-content/uploads/2022/07/AHSC%20Highlights%20of%202021-2022%20and%20plans%20for%202022-2023.pdf
We will need adult volunteers for 2022/2023; positions are available for Teacher, Administration, IT/Tech Support, etc. Training will be provided during the summer. Please join our team to enhance programs for students and to have a fulfilling experience, by submitting the form:
AHSC Volunteers Application form: https://forms.gle/MW3STaio5PkC9Q6N8
This update includes:
1. Final Report Cards
2. Community Service Award (June 1, 2022 – May 31, 2023)
3. Summer Volunteering Opportunities
4. Key Upcoming Dates
Final Report Cards
Final report cards are available via the parents portal in www.al-haadi.ca.  Use your family login and password in order to access your child(ren)'s report card.
– If you cannot find your family id, send an e-mail to registration@al-haadi.ca.
– If you have forgotten the password, use the 'lost password' option in www.al-haadi.ca.
– If you have any questions or concerns about the report card, please send an e-mail by July. 17, 2022 to admin@al-haadi.ca, subject "Final report".
Community Service Award Program for 2022-2023
The Community Service Award program for students for next year has started… all volunteering hours from June 1, 2022 – May 31, 2023 can count towards the minimum criteria.  See below for details.  Students need to keep a log of the volunteering service; see https://drive.google.com/drive/folders/1V5f-5VAsTRTfxWFkn6rPr0QnIWwVUqBJ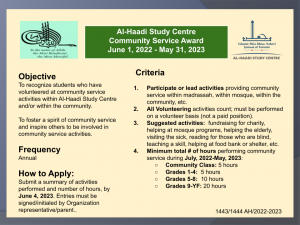 Summer Volunteering Opportunities
Several parents have asked for volunteering opportunities.  We have started a program to provide Summer volunteering opportunities for students age 14 and up and adults.   Details and how to apply have been posted in Dinyat Google Classrooms for Grades 10-12 and are also shown below; submit the Volunteers Application form. Students under 14 can participate, provided parent applies for the position and is involved in helping/reviewing the work.
AHSC Volunteers Application form: https://forms.gle/MW3STaio5PkC9Q6N8
Project
Skills/Qualifications, Timeframe
Onsite or remote
Develop Islamic Fundamentals Self Study module
Google slides, using media, create games; July
Remote
Format Quranic Arabic Module
Google slides,using media; July
Remote
Quran Tutor on Weekdays 

5 – 5:45 pm

Excellent Achievement in Quran Recitation; at least 2 days per week
Remote
Moderator for Quran Tutoring Program; weekdays, 4:450 – 5:45 pm
Zoom; training will be provided; at least 2 days per week
Remote
Prepare Adventures of Haadi Family Videos
Storyline, write scripts, make, storyboard, make videos
Remote
Administration
Google Sheets, Google Docs, Google Slides
Remote
Prepare Activity Kits for Grades 1-4
Search for online images, select props for storybooks
Remote
Log book returns; take inventory
Dates to be arranged
Onsite at JCC
Organize Resource Room
Dates to be arranged
Onsite at JCC
IT/tech  support
Software upgrades, file mgmt, dates to be arranged.
Onsite at JCC
Key Upcoming Dates
July 17: send questions regarding final reports
July 20: Reports & Google classrooms will be archived to prepare for new year
August 1: Online registration for 2022/23 starts for returning students & students entering Grade 1
August 15: Online registration starts for new students (Grades 2-12)
Sept. 11: First day of 2022/23 classes (inshaAllah)
Thank you for your support, feedback, and suggestions over the past year.  Please forgive us and all the volunteers for any mistakes or shortcomings. If you have any questions or suggestions, kindly send an e-mail to admin@al-haadi.ca.
JazakAllah,
Fatima Khimji    &     Amjad Datoo
Principal                   Vice Principal
Al-Haadi Study Centre
www.al-haadi.ca
Instagram: @alhaadistudycentre
AHSC Tech Support/Suggestion form: https://forms.gle/7yrnM2M8FVZCWaSQ8
AHSC Volunteers Application form: https://forms.gle/MW3STaio5PkC9Q6N8