"Opportunity is quick to pass on, and slow to come back."
                      Imam Ali (a)     Mizanul Hikmah
Salaamun Alaykum,
We send our condolences to the Imam of our time on the martyrdom of Imam Husayn (a) and his family and companions. We hope everyone is well and has been able to take part in the azadaari of Imam Husayn (a).
Click here to view 2021-2022 Highlights & 2022-2023 Plans. Send an e-mail to admin@al-haadi.ca if you have any questions about 2022-2023 Plans.
This update includes:
1. 2022-2023 Registration
2. Community Service Award for Students (June 1, 2022 – May 31, 2023)
3. Call for Teachers & Admin Volunteers
4. Key Upcoming Dates
2022/2023 Registration
Alhamdulillah, online registration is underway and almost 100 students have been registered in the past week.
First day of classes will, inshaAllah, be held onsite, in person, on Sunday, Sept. 11, 2022. Classes will be held 10:45 am – 2:30 pm.
Class sizes will be limited, and registrations will be processed on a first come, first served basis. ,
Priority will be given to returning studentsuntil  14. Registration for new students will open on Aug. 15.
A registration e-mail with login id and registration process has been sent to parents of last year's students. Registration process for returning students has also been posted on our website click here.
Registration for new students: click here. A child needs to be 5 years old by Dec. 31st, 2022 in order to register for Grade 1.
Send an e-mail to registration@al-haadi.ca if you have any questions about registration.
Community Service Award Program for 2022-2023
The Community Service Award program for students for next year has already started… all volunteering hours from June 1, 2022 – May 31, 2023 can count towards the minimum criteria.  See below for details.  Students need to keep a log of the volunteering service.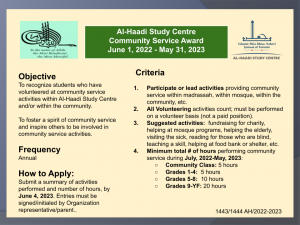 Call for Volunteers
We need a few more Teachers, Salaat/Wudhu assessors, and traffic/safety volunteers for 2022/2023. Training will be provided. Please join our team to enhance programs for students and to have a fulfilling experience.
AHSC Volunteers Application form: https://forms.gle/MW3STaio5PkC9Q6N8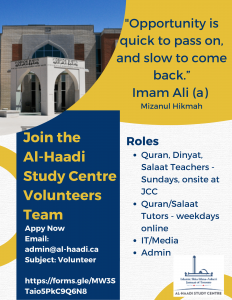 Key Upcoming Dates
Aug.14: Priority registration for returning students ends
Aug. 15: Online registration starts for new students
Sept. 11: First day of 2022/23 classes
If you have any questions or suggestions, kindly send an e-mail to admin@al-haadi.ca.  We look forward to seeing everyone again in September. Have a wonderful summer and stay safe!
JazakAllah,
Fatima Khimji    &     Amjad Datoo
Principal                     Vice Principal
Al-Haadi Study Centre
www.al-haadi.ca
Instagram: @alhaadistudycentre
AHSC Tech Support/Suggestion form: https://forms.gle/7yrnM2M8FVZCWaSQ8 
AHSC Volunteers Application form: https://forms.gle/MW3STaio5PkC9Q6N8