"Take care of the orphans and the aged who have no means (for livelihood) nor are they ready for begging."
                       Imam Ali a.s Nahjul Balagha, Letter to Malik al Ashtar
Salaamun Alaykum.
There will be no classes on April 16 and 23.  InshaAllah, classes will resume on Sunday, April 30th.
Pizza Lunch program update:
For all who had signed up for the Jan – Mar. Pizza lunch program, please note that April 30th will be the last day for pizza lunch for this cycle.
Pizza Lunch Program May & June:  InshaAllah, we will offer a pizza lunch program on the following six (6) Sundays:  May 7, 14, 28, June 4, 11, and 18. Here are the logistics, based on the limited number of volunteers available to administer this program:
1. Cheese pizza, from Madani Fine Foods, individually packaged to minimize handling.
2. Price = $1.95 per slice, hence total cost = $11.70 for a single slice on 6 Sundays
3. Must signup for all six days; cannot select specific days.
4. No refund after registration and payment since we will provide quantity to vendor.
5. No refund if student is absent on any of the days.
6. If there is a madrassah event consisting of lunch for all students on one of the above-mentioned dates or madrassah is closed (e.g. due to inclement weather), pizza will be provided on the next available Sunday.
Parents can signup and pay via Event option by logging using family login id and password onto www.al-haadi.ca using a laptop or computer (will not work on a cellphone).  Last day to sign up is April 30; no extensions. Select the Event titled Pizza May & June 2023, select the # of slices and make payment.  Save payment confirmation which will be sent via e-mail.  If you cannot find your family login, send an e-mail to registration@al-haadi.ca .
Challenge Zone
Annual Quran Recitation for Ahlul Bayt (a) and Marhumeen
Many thanks to all who have signed up to recite the Holy Quran, dedicated as follows:
– gift to Ahlul Bayt (a)
– thawab for all volunteers who have passed away
– thawab for all Marhumeen of Al-Haadi family and for those who don't have anyone to pray for them.
Please complete all recitations by Tuesday, April 18, 2023.
Link: Al-Haadi Family Quran Recitation – pls complete by April 18, 2023
Community Service Award Challenge
The month of Ramadhan provides many opportunities for students to volunteer at the mosques. Note that the time period for students to accumulate hours for this year's Community Service Award is ending on May 31st, 2023.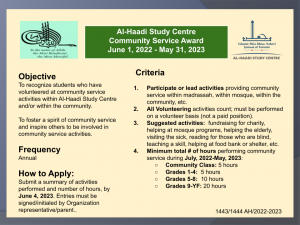 Charity Campaign Update:
Our charity campaign continues in collaboration with Zahra Foundation …. please donate for any of the following causes. Tax receipts will be provided by The Zahra Foundation. The following packages are available via:  https://zahrafoundation.ca/al-haadi/
– Water Aid
– Support for widows, orphans, and vulnerable people
– Earthquake Relief
– Karbala Orphanage Visit
During checkout, please specify child's dinyat class, e.g, D6A, D9B, etc. so the donations can count towards the class.
If you have any questions or suggestions, kindly send an e-mail to admin@al-haadi.ca.
JazakAllah,
Fatima Khimji    &     Amjad Datoo
Principal                     Vice Principal
Al-Haadi Study Centre
www.al-haadi.ca
Instagram: @alhaadistudycentre
AHSC Tech Support/Suggestion form: https://forms.gle/7yrnM2M8FVZCWaSQ8
AHSC Volunteers Application form: https://forms.gle/MW3STaio5PkC9Q6N8