"Opportunity is quick to pass on, and slow to come back."
                   Imam Ali (a) Mizanul Hikmah
Salaamun Alaykum.
This update includes:
1. On Time Attendance Class Challenge
2. Extra-curricular activities
3. Key Upcoming Dates
See "Community Announcements/Events' below for volunteering opportunities.
On-Time Attendance Class Challenge 
Quran classes start at 10:45 am. Help your child get the benefit of a full class of Quran and help your child's class win the prize by bringing him/her on time.
Challenge Period: Oct. 15 – Dec. 17.
Criteria: 80% of students plus one teacher in classroom and attendance submitted by 10:55 am.
The class with most number of Sundays which meets the criteria will win a free lunch on Jan. 7th.
Reminder:  no grade 1-3 student pickup between 2 – 2:15 pm to avoid impacting the salaat program.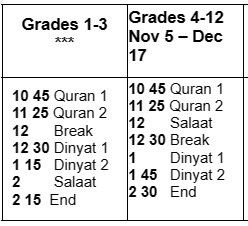 Extra-curricular activities
Several parents have asked to incorporate sports or outdoor activities.  We are looking into the feasibility of this. The gym is available before 10:45 am. One of the first requirements is to have a team of volunteers who will commit to planning and conducting this program. If you are interested in helping with this program, please submit the Volunteer Application form and specify Sports/Outdoors activity in the Comments field.
AHSC Volunteers Application form: https://forms.gle/MW3STaio5PkC9Q6N8
Key Upcoming Dates
Dec. 3: Partnering for Success Parents Session (10:45 – 12 noon, Save the Date, please)
Dec. 10: Ummal Ayyimah Walk-Through Museum (exhibits prepared by students)
If you have any questions or suggestions, kindly send an e-mail to admin@al-haadi.ca.
JazakAllah,
Fatima Khimji    &     Amjad Datoo
Principal                         Vice Principal
Al-Haadi Study Centre
www.al-haadi.ca
Instagram: @alhaadistudycentre
AHSC Tech Support/Suggestion form: https://forms.gle/7yrnM2M8FVZCWaSQ8
AHSC Volunteers Application form: https://forms.gle/MW3STaio5PkC9Q6N8
To report an absence, send e-mail to Quran and Dinyat class email ids and absence@al-haadi.ca