"Opportunity is quick to pass on, and slow to come back."
Imam Ali (a) Mizanul Hikmah
Salaamun Alaykum,
Many thanks to all parents who have registered their child(ren). We are looking forward to onsite classes inshaAllah, starting on Sept. 11 10:45 am – 2:30 pm.
This update includes:
1. 2022-2023 Registration
2. Website updates: Calendar, Student Planner
3. Community Service Award for Students (June 1, 2022 – May 31, 2023)
4. Key Upcoming Dates
________________________________________
2022/2023 Registration
Alhamdulillah, online registration is underway and about 350 students have been registered. If you have not yet registered, please do so by Aug. 28; student who are registered after Aug. 28 may experience delays in getting textbooks and/or invites to Google Classroom.
If you went through the registration process via www.al-haadi.ca and received a receipt from ISIJ for the fees but have not yet received a registration confirmation message, please send a message to registration@al-haadi.ca with subject "Missing registration confirmation" and include the family id and a copy of the receipt.
1. Class sizes will be limited, and registrations are being processed on a first come, first served basis.
2. A registration e-mail with login id and registration process was sent to parents of last year's students. Registration process for returning students has also been posted on our website click here.
3. Registration for new students: click here. A child needs to be 5 years old by Dec. 31st, 2022 in order to register for Grade 1.
Send an e-mail to registration@al-haadi.ca if you have any questions about registration.
________________________________________
Website Updates
This year's Calendar and Student Planner have been posted on www.al-haadi.ca . Scroll down the Documents section on the right side of the home page. The Calendar contains the timetable. See below for a snapshot of the contents of Student Planner.
Parents of students in Grades 5-12 are requested to encourage child(ren) to review the Islamic Fundamentals notes in the Student Planner as students will be tested on Sept. 18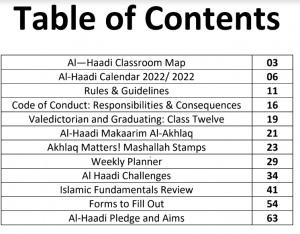 ________________________________________
Community Service Award Program for 2022-2023
The Community Service Award program for students for next year has already started… all volunteering hours from June 1, 2022 – May 31, 2023 can count towards the minimum criteria. See below for details. Students need to keep a log of the volunteering service.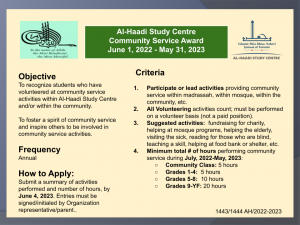 ________________________________________
Key Upcoming Dates
Sept. 11: First day of 2022/23 classes
Sept. 11 & 18: Quran recitation assessments (Grades 1-12)
Sept. 18: Islamic Fundamentals test (Grades 5-12)
Sept. 25: Placement of students in Quran recitation class based on recitation level
Oct. 2: Parent/Teacher Meet & Greet (9000 Bathurst) 10 45 AM – 12:30 pm.
Oct. 2: Update mailing list to remove e-mail addresses of parents who do not have any students registered for 2022-2023
________________________________________
If you have any questions or suggestions, kindly send an e-mail to admin@al-haadi.ca.
JazakAllah,
Fatima Khimji & Amjad Datoo
Principal              Vice Principal
Al-Haadi Study Centre
www.al-haadi.ca
Instagram: @alhaadistudycentre
AHSC Tech Support/Suggestion form: https://forms.gle/7yrnM2M8FVZCWaSQ8
AHSC Volunteers Application form: https://forms.gle/MW3STaio5PkC9Q6N8