Achievement of glorious feats is through performing noble deeds." Imam Ali (as) reference: al-islam.
Salaamun Alaykum,
Ramadhan Kareem Mubarak to all.
See page 50 of the Al-Haadi Student Planner on www.al-haadi.ca under DOCUMENTS for Ideas for Ramadan activities for Children. Also please encourage your children to attempt the March Break Challenge of Reciting Quran that can be found on pages 44-48 of the Student Planner. Due date for Quran challenge will be April 18th iA( given that March break was postponed to April)
We shall be OPEN this Sunday, Virtually as usual.
A BIG THANK-YOU for the generous donations received towards Our Save a Life In Yemen Campaign, especially after the 15th Sha'ban programs at Al-haadi – Jazakallah, the Student Council worked really hard to produce the Yemen Campaign Video, and your generosity was extremely appreciated- See details of Our Save a Life in Yemen Campaign below including the new Leaderboard #BecauseYemenCan'tWait
UPCOMING DATES:
April 11th – OPEN
April 18th – CLOSED
April 25th – Shortened Ramadhan Schedule Classes shall start at 12:15pm
May 2nd -CLOSED for Laylatul Qadr Night
May 9th – Shortened Ramadan Schedule Schedule Classes shall start at 12:15pm
May 23rd – Al-Haadi AGM and Elections at 2pm
Visit www.al-haadi.ca for details
Al-HAADI CHARITY FOR 2020/2021- SAVE A LIFE IN YEMEN..
While donating online mention Al-Haadi and your child's dinyat class eg (AH D3B) under additional notes so we can track Al-Haadi donations by class.
Donate here to help support lives in Yemen through The Zahra Foundation.
You've probably seen images on the news or on social media of the worsening famine situation in Yemen. They are troubling. You can help..
Remember every $175 you contribute supports a family of 7 with clean water, medicine, food for 1 month. In the name of Lady Fatima S.A. donate whatever you can to help alleviate the suffering.
Donate online here and IMPORTANT: remember when you check out to enter 'Al-Haadi' and your child's class (e.g. D3B) in the Additional Information section, so we can track donations by class.
All donations will receive a tax receipt.
The winning class will win a prize!
Yemen Fundraising Leader Board!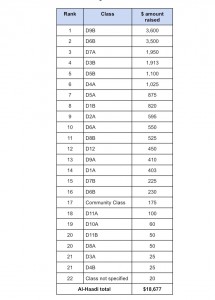 All our previous updates can be seen at www.al-haadi.ca
Jazakallah,
Shelina Dhalla & Fatima Khimji
Principal Vice Principal
Al-Haadi Study Centre
Visit www.al-haadi.ca