"To look at cheerfully at the face of a brother Muslim is a part of worship."
                              Imam Sajjad a.s Tuhful Uqool, p.282
Salaamun Alaykum.
We are nearing the end of this school year; please see the key dates below.
Please ensure students submit all assignments by May 14 for it to be counted towards the current academic year.
Pizza Lunch Program May & June:   May 14, 28, June 4, 11, and 18
For those who signed up pizza will be served during the above dates.
If there are extras those can be purchased for $2.5 per slice. Please bring exact change.
Charity Campaign Update:
Our charity campaign continues in collaboration with Zahra Foundation.  The class which raises the most funds will win a prize. Please donate for any of the following causes. Tax receipts will be provided by The Zahra Foundation. The following packages are available via:  https://zahrafoundation.ca/al-haadi/
– Water Aid
– Support for widows, orphans, and vulnerable people
– Earthquake Relief
– Karbala Orphanage Visit
During checkout, please specify child's dinyat class, e.g, D6A, D9B, etc. so the donations can count towards the class.
Key Dates:
May 14: Last day for students to submit all assessments and assignments
May 21: Closed (Victoria Day Holiday)
May 28: Ghusl/kaffan demo for Grades 11 & 12 (during dinyat)
May 28: Drop off toiletries donations near Door #6 for distribution to needy families
May 31: Last day for students to accumulate volunteering hours
June 4: Last day for students to submit log for 2022-23 Community Service Award
June 4: Potential field trip for G9-11 girls to United Muslim Women of Canada (UMWC) Food Bank (tbc)
June 24: Saturday; Year end awards & graduation event (10:30 am – 1:30 pm; JCC)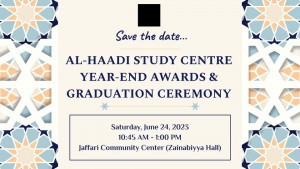 If you have any questions or suggestions, kindly send an e-mail to admin@al-haadi.ca.
JazakAllah,
Fatima Khimji    &     Amjad Datoo
Principal                      Vice Principal
Al-Haadi Study Centre
www.al-haadi.ca
Instagram: @alhaadistudycentre
AHSC Tech Support/Suggestion form: https://forms.gle/7yrnM2M8FVZCWaSQ8
AHSC Volunteers Application form: https://forms.gle/MW3STaio5PkC9Q6N8