"To look at cheerfully at the face of a brother Muslim is a part of worship."
                             Imam Sajjad a.s Tuhful Uqool, p.282
Salaamun Alaykum.
Ghusl and Kafan Demonstration for Grades 10-12 girls and grade 11-12 for boys during Dinyaat class time will be held this Sunday.
Students are  encouraged to bring donation of washed used bedsheets (any size)  for use by mayyit program.
Pizza Lunch Program May & June:   May 28, June 4, 11, and 18
For those who signed up pizza will be served during the above dates.
If there are extras those can be purchased for $2.5 per slice. Please bring exact change.
Charity Campaign Update – new package for Qurbani has been added  (see details below):
Our charity campaign continues in collaboration with Zahra Foundation.  The class which raises the most funds will win a prize. Please donate for any of the following causes. Tax receipts will be provided by The Zahra Foundation.
During checkout, please specify child's dinyat class, e.g, D6A, D9B, etc. so the donations can count towards the class.
Whichever class raises most funds for charity campaign (all packages) by June 5 will receive a prize.
The following packages are available via:  https://zahrafoundation.ca/al-haadi/
– Water Aid
– Support for widows, orphans, and vulnerable people
– Earthquake Relief
– Karbala Orphanage Visit
– Qurbani package :
The sacred month of Dhul Hijjah is almost upon us. Millions of Muslims worldwide will commemorate Eid Al Adha, also known as the Festival of Sacrifice, during the first ten days of Dhul Hijjah.
In countries like Yemen and Afghanistan, where the situation remains dire, the act of receiving Qurbani holds immense significance. For many families, it is not just a source of nourishment but a rare and cherished luxury that is not part of their daily diet. The distribution of meat during this blessed time brings joy, sustenance, and a profound sense of community to those enduring challenging circumstances.
By joining hands with The Zahra Foundation, you will play a pivotal role in ensuring the distribution of Qurbani to our Shi'a brothers and sisters in these countries.
Please go ahead and use the link here to donate towards Qurbani Al-Haadi Fundraiser | The Zahra Foundation
Key Dates:
May 28: Ghusl/kaffan demo for Grades 11 & 12 (during dinyat)
May 31: Last day for students to accumulate volunteering hours (use link posted in the Dinyaat google classroom to submit form)
June 4: Last day for students to submit log for 2022-23 Community Service Award
June 4: Drop off toiletries donations near Door #6 for distribution to needy families
June 4: Potential field trip for G9-11 girls to United Muslim Women of Canada (UMWC) Food Bank (tbc)
June 24: Saturday; Year end awards & graduation event (10:30 am – 1:30 pm; JCC)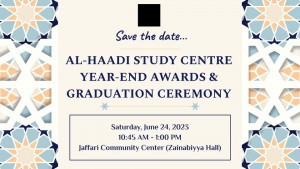 If you have any questions or suggestions, kindly send an e-mail to admin@al-haadi.ca.
JazakAllah,
Fatima Khimji    &     Amjad Datoo
Principal                      Vice Principal
Al-Haadi Study Centre
www.al-haadi.ca
Instagram: @alhaadistudycentre
AHSC Tech Support/Suggestion form: https://forms.gle/7yrnM2M8FVZCWaSQ8
AHSC Volunteers Application form: https://forms.gle/MW3STaio5PkC9Q6N8