Salaamun Alaykum,
Classes shall resume as usual on Sunday, virtually. Students are requested to arrive on time and prepared for class. Students in older grades are reminded to keep their videos ON during class for an more engaging class experience.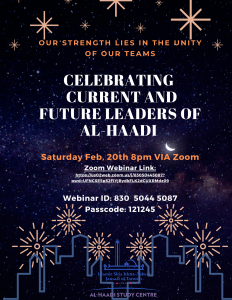 UPCOMING EVENT:Celebrating the Current and Future Leaders of Al-Haadi – Feb 20th 8pm – YOU ALL MUST JOIN this event!!
We welcome our students, parents and teachers and their near and dear ones to join us on Saturday February 20th, 8pm on ZOOM as we recognize the current and future leaders of Al-Haadi Study Centre.
While ALL members who help run Al-Haadi are leaders, on Feb 20th we would like to take this opportunity to highlight our 13 teachers who have graduated from the Teachers Skills Program and showcase our students who are member of our new virtual Al-Haadi Student Council Team. Please do not miss this event that will take place on Saturday, Feb 20th, 8pm on Zoom. Zoom meeting details can be found on the flier above as well as here:
Zoom webinar meeting link: https://us02web.zoom.us/j/83050445087?pwd=UFNCSE5pS2FiYjBydkFLK2dCUXRMdz09
Zoom meeting ID: 830 5044 5087
Passcode: 121245
CELEBRATING IMAM MOHAMED TAQI (AS) BIRTHDAY AT AL-HAADI ON FEBRUARY 21ST
To Celebrate the birth anniversary of Imam Taqi (as), we are asking ALL students to come to class with a celebratory virtual background which they can create or find online or use a picture that they have and one fact about Imam Mohamed Taqi (as) to share with the rest of class.
We shall celebrate the birth anniversary of Imam Ali (as) on Feb 28th iA- Details to follow in next weeks update
MARCH BREAK POSTPONED TO MID-APRIL
In keeping with the public school boards' decision to postpone March break to Mid April, Al-Haadi shall remain open on March 14th and remain close on April 18th. We shall also have shortened classes for the month of Ramadan- More details to follow once we have the website calendar updated.
Al-HAADI CHARITY FOR 2020/2021- SAVE A LIFE IN YEMEN..
While donating online mention Al-Haadi and your child's dinyat class eg (AH D3B) under additional notes so we can track Al-Haadi donations by class.
Donate here to help support lives in Yemen through The Zahra Foundation.
You've probably seen images on the news or on social media of the worsening famine situation in Yemen. They are troubling. You can help..
Remember every $175 you contribute supports a family of 7 with clean water, medicine, food for 1 month. In the name of Lady Fatima S.A. donate whatever you can to help alleviate the suffering.
Donate online here and IMPORTANT: remember when you check out to enter 'Al-Haadi' and your child's class (e.g. D3B) in the Additional Information section, so we can track donations by class.
All donations will receive a tax receipt.
The winning class will win a prize!
Yemen Fundraising Leader Board!
TERM 1 REPORT CARDS ARENAVAILABLE TO VIEW ON YOUR DASHBOARD
The Term 1 Report Cards are available for parents to view on our website, www.al-haadi.ca
You will require your family ID and password to access your child's report cards
If you have any questions on how to access the report cards, email admin@al-haadi.ca
If you have any questions regarding the report card, please email the class teachers directly. Their class emails can be found on the report cards.
COMMUNITY OUTREACH INITIATIVES:
All our previous updates can be seen at www.al-haadi.ca
Jazakallah,
Shelina Dhalla & Fatima Khimji
Principal Vice Principal
Al-Haadi Study Centre
www.al-haadi.ca