Achievement of glorious feats is through performing noble deeds." Imam Ali (as) reference: al-islam.
Salaamun Alaykum,
On behalf of Al-Haadi we wish you all a safe and healthy 2021. May Allah bestow his blessings and protection upon all of us and remove the afflictions of COVID-19 in the coming new year – Ameen.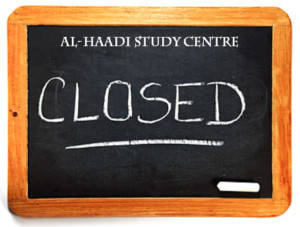 UPCOMING DATES:
December 27th – CLOSED
January 3rd – CLOSED
January 10th – Classes Resume
CELEBRATING OUR TEACHERS' ACHIEVEMENTS
Mashallah thirteen of our teachers at Al-haadi are amongst the first TSP Graduates in Toronto. TSP – Teachers Skills Program is a two year program and teachers receive a Level 2 teaching certification from the National Council for Further Education (NCFE) in the UK. It is conducted by Sayyid Aliraza Naqvi from the UK. The TSP graduation ceremony will be taking place on Zoom tomorrow with global participation as they get recognized for this great Achievement.
The TSP grads from Al-Haadi include: in alphabetic order: Ateka Alidina, Faheem Mazher, Fatma Khalfan, Mohamed Jivraj, Mohamedtaqi Hasham, Mubarekah Shakil Dharamsi, Shagufta Damji, Sukaina Jaffer- Fazal, Syed Mehdi Raza, Zahra Maryam Amarshi, Zahra Panjwani-Rashid, Zainab Champsi & Zainab Ghanawwi.
On behalf of Al-Haadi, we are extremely proud of you and you certainly inspire the rest of us.
Al-HAADI CHARITY FOR 2020/2021- SAVE A LIFE IN YEMEN..
While donating online mention Al-Haadi and your child's dinyat class eg (AH D3B) under additional notes so we can track Al-Haadi donations by class.
Donate here to help support lives in Yemen through The Zahra Foundation.
Alhamdulillah, more great progress from Al-Haadi parents this week in your support for the war-torn families and children in Yemen. May Allah SWT reward you. Ameen.
D9B remains in the lead with $3,600! D3B moves up on the leader board into 4th place! D1B and D12 also moved up higher! Jazakallah! Please continue donating.
Donate online here and IMPORTANT: remember when you check out to enter 'Al-Haadi' and your child's class (e.g. D3B) in the Additional Information section, so we can track donations by class.
All donations will receive a tax receipt. The winning class will win a prize!
Yemen Fundraising Class Leaderboard
Rank Class $ Amount raised
1. D9B. 3,600
2. D6B. 3,500
3. D4A. 775
4. D3B. 713
5. D7A. 700
6. D6A. 425
7. D1A. 403
8. D2A. 400
9. D12. 275
10. D6B. 200
10. D5A. 200
11. D5B. 100
11. D11A. 100
12. D1B. 70
13. D11B. 50
14. D8B. 25
14. D3A. 25
Al-Haadi total. $11,561
QURAN APPRECIATION CLASSES FOR CHILDREN
We encourage you to sign up your children
Register at https://academyofislam.com/current-term/
SOMETHING FOR PARENTS AND TEACHERS
Register at jtc.jaffari.org/courserepentance
All our previous updates can be seen at www.al-haadi.ca
Jazakallah,
Shelina Dhalla & Fatima Khimji
Principal Vice Principal
Al-Haadi Study Centre
www.al-haadi.ca