"Opportunity is quick to pass on, and slow to come back."
                      Imam Ali (a) Mizanul Hikmah
Salaamun Alaykum.
This update includes:
1. Fire Drill – Oct. 22
2. On Time Attendance Class Challenge
3. Community Service Award & Volunteering Opportunities
4. Charity Campaign Update
5. Key Upcoming Dates
See "Community Announcements/Events' below for training opportunities open to students, parents, and volunteers.
Fire Drill – Oct. 22 
InshaAllah, we'll have a fire drill on Sunday, Oct. 22nd. This will be a timed drill with evacuation so please ensure child is dressed appropriately for the weather as there will not be time to put on coat/jacket. Teachers have reviewed the fire drill procedure with students; kindly review them with your child also.
Extract from Student Planner, p. 15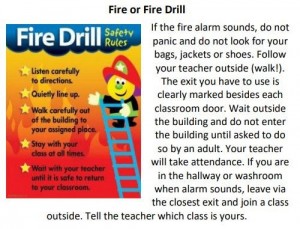 On-Time Attendance Class Challenge 
Quran classes start at 10:45 am. Help your child get the benefit of a full class of Quran and help your child's class win the prize by bringing him/her on time.
Challenge Period: Oct. 15 – Dec. 17.
Criteria: 90% of students plus one teacher in classroom and attendance submitted by 10:55 am.
The class with most number of Sundays which meets the criteria will win a free lunch on Jan. 7th.
Community Service Award Challenge & Volunteering Opportunities
Reminder: our Community Service Award Challenge runs for June 1, 2023 – May 31, 2024.  Here are some volunteering opportunities:
1.  Ages 12 & up: help out on Nov. 5 after 2:30 pm at Nasimco's Empowered Teachers Workshop, to apply contact: secretariat@nasimco.org or Sadaf.Athar@nasimco.org
2. Ages 14 & up: be a Quran Tutor on one or more weekdays to help students learn to recite the Holy Quran; must be assessed at recitation level 12 or 13. Sessions are held via zoom between 5 and 6 pm. To apply, submit the Al-Haadi Volunteering Application form: https://forms.gle/MW3STaio5PkC9Q6N8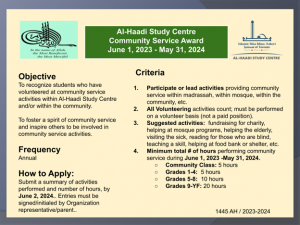 Charity Campaign: Sponsor an Orphan
Many thanks to parents/students/volunteers who have donated. Our goal is to sponsor several orphans in Iraq. The cost per orphan is now $1200 per year which includes all living, educational, and medical expenses. We'll combine donations from 2 or more classes to sponsor an orphan and attempt to sponsor an orphan who is the same age as the students in the class, e.g., grade 1 to sponsor a 5 year old, grade 2 to sponsor a 6 year old, etc.  We will share info about the sponsored orphan with the students so they can form a connection and empathize. Kindly support this initiative by sending a donation for this program.
Many times we get requests from students for snacks or chai. InshaAllah, our Student Council will pilot an Al-Haadi Bazaar initiative soon, consisting of classes selling donated nut free snacks or chai as a fund-raising exercise for our Charity Campaign. There are many sales of individually packed snacks at this time so you may want to take advantage of purchasing them for this initiative… must be nut free and not include ingredients that are not halal.
Key Upcoming Dates
Oct. 22: Fire Drill
Nov. 5: Timetable change due to Daylight Savings Time End.
Dec. 3: Partnering for Success Parents' Info Session
If you have any questions or suggestions, kindly send an e-mail to admin@al-haadi.ca.
JazakAllah,
Fatima Khimji    &     Amjad Datoo
Principal                     Vice Principal
Al-Haadi Study Centre
www.al-haadi.ca
Instagram: @alhaadistudycentre
AHSC Tech Support/Suggestion form: https://forms.gle/7yrnM2M8FVZCWaSQ8
AHSC Volunteers Application form: https://forms.gle/MW3STaio5PkC9Q6N8