Achievement of glorious feats is through performing noble deeds." Imam Ali (as) reference: al-islam.org
Salaamun Alaykum,
Wiladat Mubarak on the birth anniversary of our beloved Lady Zainab (a).
This update includes:
1. Student Council's 1st event for all students, parents & volunteers – Dec. 12, 2021 @ 3 pm
2. Charity Initiative – water aid & support for orphans, widows & vulnerable children
3. Update re: onsite/online & report cards
4. Key Upcoming Dates
Student Council's 1st event for all students, parents, and volunteers
You and your family are cordially invited to join our fabulous Student Council who have prepared a wonderful program to celebrate the wiladat of Bibi Zainab (a).  The event will be held virtually, via Zoom, inshaAllah, on Sunday, Dec. 12 at 3 pm. See flyer below. Please support this event by joining, listening to the recitations, and participating in the fun games, including an Early Bird Draw for all participants who join within the first 5 min.
Zoom webinar meeting id: 972 3401 1990  passcode: Courage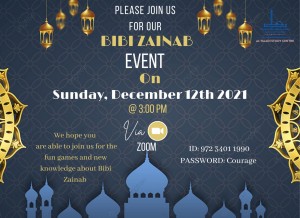 Al-Haadi Student Council Charity Initiative
MashaAllah, donations have started for this year's charity campaign in collaboration with Az-Zahra Foundation. We pledge to provide WATER AID in remote areas where there is no water and we pledge to SUPPORT ORPHANS, WIDOWS & VULNERABLE CHILDREN. See flyer below.
Click on the below link for details and to donate. When you check out, enter 'Al-Haadi' and your child's dinyat class in the 'Additional Information' section, e.g. 'Al-Haadi D5B', so we can track donations by class. The class that raises the most donations will win a prize at the end of the campaign.
As of Dec. 7th, $200 has been donated and the D7A and Youth Forum classes are tied for first place.
To donate: https://zahrafoundation.ca/al-haadi/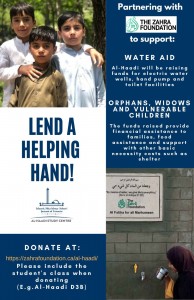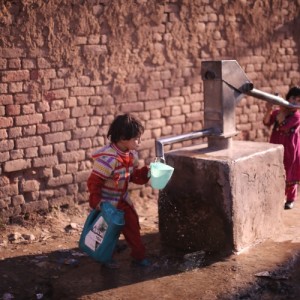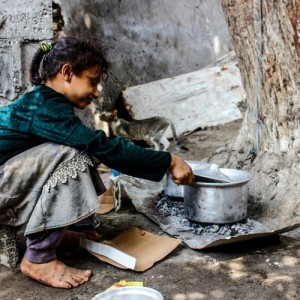 Update re: onsite/online & report card suggestions
a. Parents had been requested to let us know by Dec. 7th if you have a strong preference to have classes onsite or remain online for Term 2. We received very few responses. We appreciate the reasons provided by parents on why they prefer to remain online or go onsite; there are, indeed, strong reasons for either position. In addition to the responses we've received, we're also considering teachers' availability, COVID-19 status, and our capability to comply with mandatory protocols. InshaAllah, we'll make the final decision by Dec. 31st and we hope that all parents will support the decision.
b . We did not receive any suggested changes to report cards, so we'll continue to use the existing format.
Key Upcoming Dates:
Dec. 12 @ 3 pm: online event hosted by Student Council to celebrate Wiladat of Lady Zaynab (a); to be confirmed
Dec. 26: Closed for Winter Break
Jan. 2: Closed for Winter Break
Thanks for your support. If you have any questions or suggestions, please send an e-mail to admin@al-haadi.ca.
JazakAllah,
Fatima Khimji    &     Amjad Datoo
Principal                   Vice Principal
Al-Haadi Study Centre
www.al-haadi.ca
AHSC Tech Support/Suggestion form: https://forms.gle/7yrnM2M8FVZCWaSQ8