"The one who recites the Qur'an and the one who listens to it have an equal share in the reward."
Prophet Muhammad (s)            Mustadrakul Wasa'il, Volume 1, Page 293
Salaamun Alaykum,
InshaAllah, online classes will resume on Sunday, May 29.
Save the date: Sunday, June 26, 2022 10:30 AM – 1:15 PM for a fun onsite year end celebration, awards and graduation event at JCC, 9000 Bathurst Street. See details below.
This update includes:
1. RSVP for June 26 Year End Awards & Graduation onsite event & provide feedback
2. Community Service Award applications due June 1, 2022
3. Charity Campaign
4. Tips for success
5. Key Upcoming Dates
________________________________________
RSVP for June 26 Year End Awards & Graduation Onsite Event Grades
Our awesome volunteers are preparing for the June 26th year end awards & graduation event which will be held onsite at JCC (9000 Bathurst Street).
InshaAllah, the event will include class & award presentations, game, year end summary, and lunch. All students who attend will also receive a gift. Parents are requested to submit one response per family by June 8, 2022 using the link below to:
– indicate how many will attend and if vegetarian meal is required
– submit nominations for Volunteers Service Excellence Awards
– provide feedback for Teachers and Admin
Link to form: https://forms.gle/QtpK5dTxEXWsWNCX6
Parents who have been loaned Tarbiyah storybooks or textbooks are requested to return the loaned books at the event.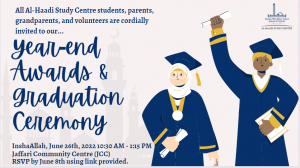 ________________________________________
Community Service Award
If any Al-Haadi Study Centre students (Grades 1-12) have been volunteering at any organization since Aug. 1, 2021 and have met the minimum number of hours for the grade, we would like to hear about it and recognize the students at our year end awards day. The form should be submitted by student, latest by June 1, 2022 along with a picture showing the record of hours volunteered.
Link to form:
https://docs.google.com/forms/d/e/1FAIpQLSeD0iX5GVszJZKjTbubdU_HNNaZZHEfi6VcDN5sqe318Q9K7w/viewform?authuser=0
________________________________________
Charity Campaign
MashaAllah, total collected $11,658.65.
Note that the class that raises the most donations by June 13th will win a prize.
Thank you for your fundraising activities and donations to help provide WATER AID in remote areas and to SUPPORT ORPHANS, WIDOWS & VULNERABLE CHILDREN.
Donate online via https://zahrafoundation.ca/al-haadi/ , select package, and when checking out, enter 'Al-Haadi' and the student's dinyat class (e.g. Al-Haadi D6A) in the Additional Information section, so we can track donations by class.
All donations will receive a tax receipt from The Zahra Foundation.
Leaderboard:
Position Class Total to date Position Class Total to date
1 D7B $1,177.00 11 D2A $350.00
2 D6B $1,050.00 12 D7A $343.00
3 D10B $790.00 13 D9B $255.00
4 D11A $780.00 14 D8A $250.00
5 D1B $775.00 15 CC $210.00
6 D4B $770.00 16 D3B $150.00
6 D12/YF $770.00 17 D5A $130.00
7 D2B $583.66 18 D5B $115.00
8 D4A $575.00 19 D11B $50.00
9 D8B $515.00 20 D1A $40.00
10 D3A $500.00 No class specified $1,480.00
________________________________________
Tips for Success
Encourage children to recite Holy Quran at least 15 min. each day.
If you have any tips you would like to share with parents, please send them to admin@al-haadi.ca, subject "Tips for Success".
________________________________________
Key Upcoming Dates
May. 31: End of Community Service Award period (Aug. 1, 2021-May 31, 2022)
June 1: Last day to submit Community Service Award Application (Grades 1-12)
June 8: RSVP for Year End Awards event, nominations for Service Excellence Awards, and provide feedback
June 26: Graduation & Awards Day
August 1: Online registration starts for returning students (2022/23)
________________________________________
Thank you for your support. If you have any questions or suggestions, please send an e-mail to admin@al-haadi.ca.
JazakAllah,
Fatima Khimji & Amjad Datoo
Principal Vice Principal
Al-Haadi Study Centre
www.al-haadi.ca
Instagram: @alhaadistudycentre
AHSC Tech Support/Suggestion form: https://forms.gle/7yrnM2M8FVZCWaSQ8
AHSC Volunteers Application form: https://forms.gle/MW3STaio5PkC9Q6N8