"To look at cheerfully at the face of a brother Muslim is a part of worship."
                            Imam Sajjad a.s Tuhful Uqool, p.282
Salaamun Alaykum.
On behalf of all the volunteers, we'd like to wish everyone wiladat mubarak on the birth anniversary of Imam Muhammad al-Mahdi (ajtf).
There will be regular classes this Sunday, March 5th, starting at 10:45 am.  There will be no classes on Sunday, March 12 due to March Break, and thereafter, classes will resume on March 19th.
Charity Campaign Update:
Several have asked how they can donate to help victims of earthquake in Syria and Turkiye. Al-Haadi's charity campaign in collaboration with Zahra Foundation has been updated with the addition of two packages to the webpage.  Tax receipts will be provided by The Zahra Foundation. The following packages are now available via:  https://zahrafoundation.ca/al-haadi/
– Water Aid
– Support for widows, orphans, and vulnerable people
– Earthquake Relief
– Karbala Orphanage Visit
The Karbala Orphanage visit package enables families to donate towards the Orphanage/school that some students and volunteers will, inshaAllah, visit in Karbala during March Break.
During checkout, please specify child's dinyat class, e.g, D1A, D6B, etc. so the donations can count towards the class.
Feb. 26th Wiladat Celebration Update:
Alhamdulillah, last Sunday's wiladat celebration went very well thanks to the volunteers who led the events and all students who participated. Among other activities, grades 1-4 students wrote notes indicating a birthday gift they were giving to the Imams (a). The boards are posted on the 2nd floor near Students' Lounge; a picture of one of the boards is shown below.
Many thanks to everyone who donated school supplies for the charity activity. See below for picture of bags prepared by some Grades 1-4 students. InshaAllah, students and volunteers going for ziyarat trip to Iraq during March Break will give them at school for orphans in Karbala.  Any items that cannot be carried will be donated to needy families in Toronto.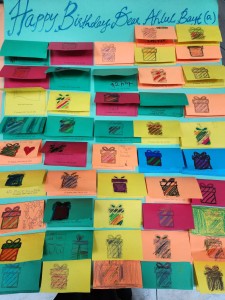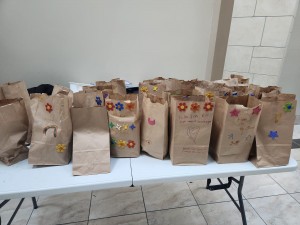 If you have any questions or suggestions, kindly send an e-mail to admin@al-haadi.ca.
JazakAllah,
Fatima Khimji    &     Amjad Datoo
Principal                      Vice Principal
Al-Haadi Study Centre
www.al-haadi.ca
Instagram: @alhaadistudycentre
AHSC Tech Support/Suggestion form: https://forms.gle/7yrnM2M8FVZCWaSQ8
AHSC Volunteers Application form: https://forms.gle/MW3STaio5PkC9Q6N8