Achievement of glorious feats is through performing noble deeds." Imam Ali (as) reference: al-islam.
Salaamun Alaykum,
This Weeks Update:
1. Reminder of AGM Notice
2. Khatmal Quran
3. Student Council Meeting
4. Yemen Campaign
5. IQRA Quran Competition
6. Community Engagements
Below, find Reminder of Al-Haadi Notice of AGM and Election on Sunday, May 23rd, 2pm via zoom. All are required to attend. If you would like to run for any elected positions, email principal@al-haadi.ca for details
Deadline to submit nomination form is May 18th, 2pm.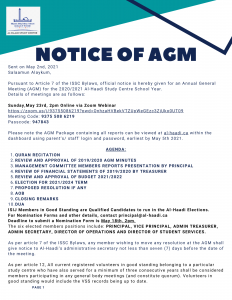 Khatmal Quran Duas
Students will recite the khatmal Quran duas in class this Sunday to mark the completion of the recitation of Quran- recited by students, parents and staff of Al-Haadi. Inshallah, May Allah give the reward of the recitation to all the marhumeen of the families of Al-Haadi Study Centre.
Student Council Meeting
Student Council Meeting shall take place at 3:30pm this Sunday. All Student Council members to attend. Visit Student Council Google Classroom for all the details.
Al-HAADI CHARITY FOR 2020/2021- SAVE A LIFE IN YEMEN..
While donating online mention Al-Haadi and your child's dinyat class eg (AH D3B) under additional notes so we can track Al-Haadi donations by class.
Mashallah! You are making a Difference each week!!
Donate here to help support lives in Yemen through The Zahra Foundation.
You've probably seen images on the news or on social media of the worsening famine situation in Yemen. They are troubling. You can help..
Remember every $175 you contribute supports a family of 7 with clean water, medicine, food for 1 month. In the name of Lady Fatima S.A. donate whatever you can to help alleviate the suffering.
Donate online here and IMPORTANT: remember when you check out to enter 'Al-Haadi' and your child's class (e.g. D3B) in the Additional Information section, so we can track donations by class.
All donations will receive a tax receipt.
The winning class will win a prize!
Yemen Fundraising Leader Board!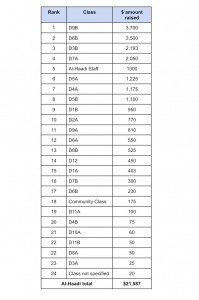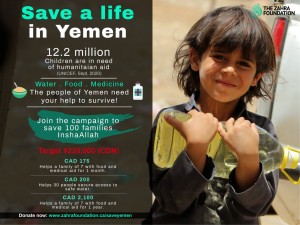 UPDATES ON IQRA COMPETITION:
The Recitation Competition already took place and this weekend, from May 7th-9th, our students will be participating in the Memorization and Quiz Competition. Below are the names of all the students participating as well as their mentors. We sincerely thank ALL the students, parents and the mentors for all their hard work and dedication.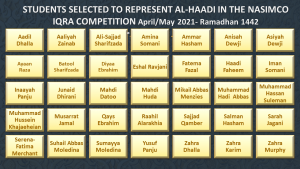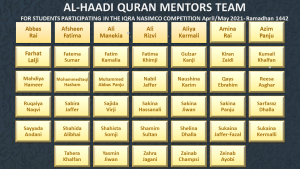 COMMUNITY ENGAGEMENTS
All our previous updates can be seen at www.al-haadi.ca
Jazakallah,
Shelina Dhalla & Fatima Khimji
Principal Vice Principal
Al-Haadi Study Centre
Visit www.al-haadi.ca