Achievement of glorious feats is through performing noble deeds." Imam Ali (as) reference: al-islam.
Salaamun Alaykum,
Classes shall resume as usual on Sunday, virtually. Students are requested to arrive on time and prepared for class. Students in older grades are reminded to keep their videos ON during class for an more engaging class experience.
AL-HAADI STUDENT COUNCIL PRESENTS THEIR FIRST VIRTUAL EVENT
Our Student Council team will Feature: Lets Celebrate Shaban Together TODAY March 27th 2:30-3:30pm EST via Zoom. The event will showcase how our holy Imams (as) and Ahlul bait influence our daily lives, Spoken word poetry about the crisis in Yemen as well as a Menti Game to know Our Imam of the Time.
Click the link below to join the webinar:
https://zoom.us/j/99508401439?pwd=WCtjakVkR3dYcnlOdEhJNjRMOFRPUT09
Webinar ID: 995 0840 1439
Passcode: 355633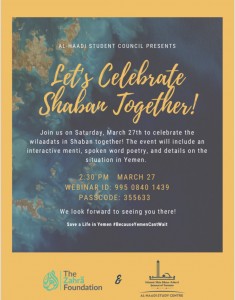 SHABE BARAAT PROGRAM IN CLASS – IMAM MAHDI (AS) BIRTHDAY CELEBRATIONS
Khushali Mubarak to all of you and your families on the upcoming birthday of the Awaited- Imam Al-Mahdi (as). We shall be dedicating the first part of the Dinyat class this Sunday March 28th, to celebrate this auspicious day with fun activities, special messages and even an interactive Amaal portion for the grades 1-6. The older grades will be spending time with Syed Asad Jafri. Please come dressed to celebrate and Inshallah, Allah accept our dua's and hajaa'ts during this holy month of Shaban.
The Celebrations in Grades 1-6 Classes is a kind gift from our new partner, Az-Zahra Foundation. It is their way of Saying Thank You to Al-Haadi for the generous support and help in the Save a Life in Yemen Campaign. They have put together the entire program including the wonderful Amaal books and workbooks that will be uploaded on each of the google classrooms. Stay Tuned and make sure all students are in class on time. Details in fliers below.
(Az-Zahra will ALSO be having another event on March 28th in the evening- see flier below in the community outreach session and register if you are interested- You can sign up Today as well
REMINDER: TERM 1 REPORT CARDS ARE AVAILABLE TO VIEW ON YOUR DASHBOARD
The Term 1 Report Cards are available for parents to view on our website, www.al-haadi.ca since the beginning of February
You will require your family ID and password to access your child's report cards
If you have any questions on how to access the report cards, email admin@al-haadi.ca
If you have any questions regarding the report card, please email the class teachers directly. Their class emails can be found on the report cards.
Al-HAADI CHARITY FOR 2020/2021- SAVE A LIFE IN YEMEN..
While donating online mention Al-Haadi and your child's dinyat class eg (AH D3B) under additional notes so we can track Al-Haadi donations by class.
Donate here to help support lives in Yemen through The Zahra Foundation.
You've probably seen images on the news or on social media of the worsening famine situation in Yemen. They are troubling. You can help.. Join us on Saturday March 27th, as Student Council features "Save a Life in Yemen" as well as celebrate the birth anniversary of the imam of our time ( May Allah hasten his reappearance) See details above..
Remember every $175 you contribute supports a family of 7 with clean water, medicine, food for 1 month. In the name of Lady Fatima S.A. donate whatever you can to help alleviate the suffering.
Donate online here and IMPORTANT: remember when you check out to enter 'Al-Haadi' and your child's class (e.g. D3B) in the Additional Information section, so we can track donations by class.
All donations will receive a tax receipt.
The winning class will win a prize!
Yemen Fundraising Leader Board!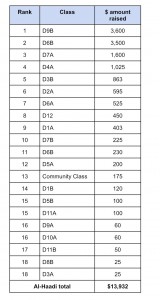 COMMUNITY OUTREACH INITIATIVES:
All our previous updates can be seen at www.al-haadi.ca
Jazakallah,
Shelina Dhalla & Fatima Khimji
Principal Vice Principal
Al-Haadi Study Centre
Visit www.al-haadi.ca