Achievement of glorious feats is through performing noble deeds." Imam Ali (as) reference: al-islam.
Salaamun Alaykum,
AL-HAADI STUDENT COUNCIL PRESENTS THEIR FIRST ZOOM EVENT
Our Student Council team will Feature: Lets Celebrate Shaban Together on Saturday March 27th 2:30-3:30pm EST via Zoom. The event will showcase how our holy Imams (as) and Ahlul bait influence our daily lives, Spoken word poetry about the crisis in Yemen as well as a Menti Game to know Our Imam of the Time.
Click the link below to join the webinar:
https://zoom.us/j/99508401439?pwd=WCtjakVkR3dYcnlOdEhJNjRMOFRPUT09
Webinar ID: 995 0840 1439
Passcode: 355633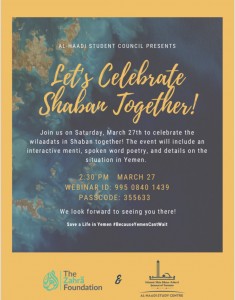 All our previous updates can be seen at www.al-haadi.ca
Jazakallah,
Shelina Dhalla & Fatima Khimji
Principal Vice Principal
Al-Haadi Study Centre
Visit www.al-haadi.ca