Achievement of glorious feats is through performing noble deeds." Imam Ali (as) reference: al-islam.org
Salaamun Alaykum,
Ramadhan Kareem to all and we pray with the grace of Allah (SWT) everyone is well.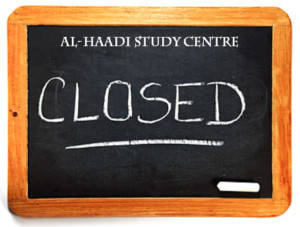 Al- Haadi shall remain CLOSED on May 2nd as we observe Laylatul Qadr – The Night of Power, The Night of Destiny, The Night the Quran was revealed. The Night of Qadr is better than a thousand months ( Sarah Al-Qadr 97:3)
May Allah Accept our Hajaat during these holy nights. Inshallah give Sadaqah during these nights.. You can Support our charity and donate towards our Save a Life in Yemen Campaign.. see below
Here is a link for easy to use amaal resources for the Night Of Qadr- Night of Power
UPCOMING DATES:
May 9th – Shortened Ramadan Schedule Schedule Classes shall start at 12:15pm
May 23rd – Al-Haadi AGM and Elections at 2pm
Visit al-haadi.ca for details
Al-HAADI CHARITY FOR 2020/2021- SAVE A LIFE IN YEMEN..
While donating online mention Al-Haadi and your child's dinyat class eg (AH D3B) under additional notes so we can track Al-Haadi donations by class.
Donate here to help support lives in Yemen through The Zahra Foundation.
You've probably seen images on the news or on social media of the worsening famine situation in Yemen. They are troubling. You can help..
Remember every $175 you contribute supports a family of 7 with clean water, medicine, food for 1 month. In the name of Lady Fatima S.A. donate whatever you can to help alleviate the suffering.
Donate online here and IMPORTANT: remember when you check out to enter 'Al-Haadi' and your child's class (e.g. D3B) in the Additional Information section, so we can track donations by class.
All donations will receive a tax receipt.
The winning class will win a prize!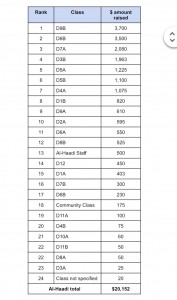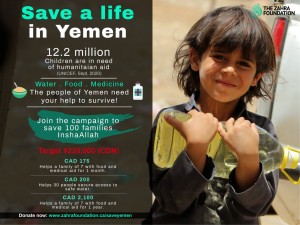 All our previous updates can be seen at www.al-haadi.ca
Jazakallah,
Shelina Dhalla & Fatima Khimji
Principal Vice Principal
Al-Haadi Study Centre
Visit www.al-haadi.ca