Achievement of glorious feats is through performing noble deeds." Imam Ali (as) reference: al-islam.org
Salaamun Alaykum,
Ramadhan Kareem to all and we pray with the grace of Allah (SWT) everyone is well.
Here are a few Updates from Al-Haadi for this holy month of Ramadhan
SHORTENED RAMADHAN SCHEDULE
We shall be OPEN this Sunday April 25th and a shortened Ramadhan Schedule shall Apply – see times below for primary and intermediate grades as they differ.
Start time for ALL classes will be 12:15pm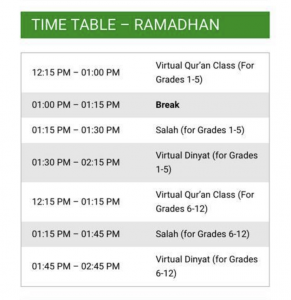 QURAN RECITATION SIGN UP:
As per Al-Haadi tradition, let us all once again recite the verses of the Holy Quran together.
Here is the link for Quran Recitation Sign up via surah. Please access the link and enter your initials next o the surah that you and your family would like to recite. Please complete ALL recitations latest by Thursday May 6th 2021. We will aim to have a Khatmul Quran program on May 9th iA.
The Surah recitation link is for parents, students, teachers and admin. Please sign up at your earliest. A new link will be shared when all the surahs are taken. May Allah (SWT) accept our good deeds during this holy month and give us the ability to do more to gain His nearness.
IQRA QURAN COMPETITION
Our students are participating in the first Annual Iqra Quran Recitation and Memorization Competition organized by NASIMCO's Centre of Islamic Learning (CiL) during the month of Ramadhan. Close to 100 students signed up in March, for an internal selection process, where our Quran teachers listened to all these students and selected the ones that would represent Al-Haadi in the competitions.
We are pleased to announce the names of 35 students as seen below and the names of the Quran Mentors who helped not only with the selection process but are now helping the students prepare for the competition.
The Recitation portion of the competitions will take place this weekend via zoom. The memorization portion will be from May 7th-9th. Updates of the competition will
be posted on NASIMCO's Instagram Page.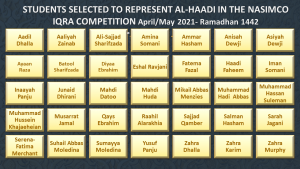 >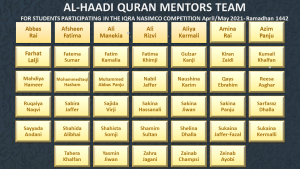 UPCOMING DATES:
April 25th – Shortened Ramadhan Schedule Classes shall start at 12:15pm
May 2nd -CLOSED for Laylatul Qadr Night
May 9th – Shortened Ramadan Schedule Schedule Classes shall start at 12:15pm
May 23rd – Al-Haadi AGM and Elections at 2pm
Visit al-haadi.ca for details
UPCOMING AGM AND ELECTIONS – May 2021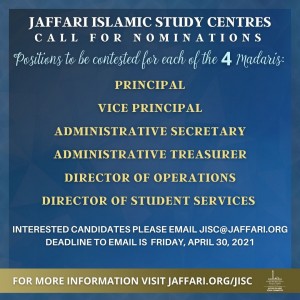 Above is a call for Nominations for Upcoming Elections in May for all four Study Centre in Toronto. Al-Haadi Elections will be held on May 23rd 2021. Please submit your interest of nomination ASAP. If you have any questions, pls let me know at principal@al-haadi.ca
Al-HAADI CHARITY FOR 2020/2021- SAVE A LIFE IN YEMEN..
While donating online mention Al-Haadi and your child's dinyat class eg (AH D3B) under additional notes so we can track Al-Haadi donations by class.
Donate here to help support lives in Yemen through The Zahra Foundation.
You've probably seen images on the news or on social media of the worsening famine situation in Yemen. They are troubling. You can help..
Remember every $175 you contribute supports a family of 7 with clean water, medicine, food for 1 month. In the name of Lady Fatima S.A. donate whatever you can to help alleviate the suffering.
Donate online here and IMPORTANT: remember when you check out to enter 'Al-Haadi' and your child's class (e.g. D3B) in the Additional Information section, so we can track donations by class.
All donations will receive a tax receipt.
The winning class will win a prize!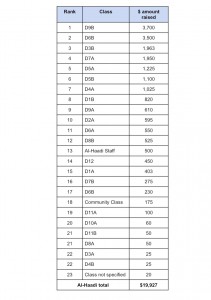 All our previous updates can be seen at www.al-haadi.ca
Jazakallah,
Shelina Dhalla & Fatima Khimji
Principal Vice Principal