Achievement of glorious feats is through performing noble deeds." Imam Ali (as) reference: al-islam.
Salaamun Alaykum,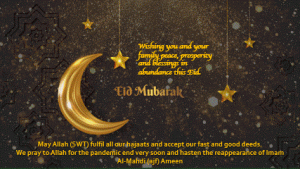 May this Eid bring peace, prosperity and blessings in abundance to you and your family. Wishing a very lovely Eid to you and your family. May Allah (SWT) fulfil all your hajaats and accept our fast and good deeds. May Allah end this pandemic very soon and hasten the reappearance of Imam Al-Mahdi (ajf) Ameen
Al-Haadi timing resumes back to normal as of this Sunday May 16th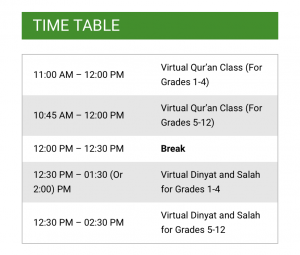 Al-Haadi Annual General Meeting (AGM) Reminder Sunday May 23rd, 2pm via Zoom – All Must Attend
Notice of AGM was sent on May 2nd, and the AGM package can be accessed on the dashboard at al-haadi.ca using your family ID and password, same as accessing registration and report cards. Email admin@al-haadi.ca if you have trouble accessing your dashboard. See flier below for meeting details and ID to join. The session will begin with 30 minutes of Cyberbullying tips for parents. Kindly have your family IDs handy for the meeting. Join the meeting with your full name and your Al-Haadi family ID please. If both parents join using one ID pls write both parents name as we require quorum to start the meeting. Teachers and Admin shall also constitute quorum if they have been a part of the madrasah for the immediate past three years or more. If there are any questions pls email admin@al-haadi.ca
Deadline for Nominations for the Elected positions is Tuesday may 18th, 2pm.
See ALL the details in the Notice of Election at the bottom of this email.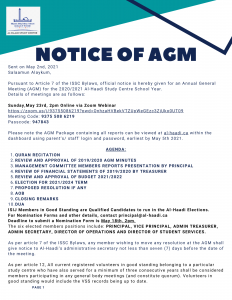 Al-HAADI CHARITY FOR 2020/2021- SAVE A LIFE IN YEMEN..
While donating online mention Al-Haadi and your child's dinyat class eg (AH D3B) under additional notes so we can track Al-Haadi donations by class.
Mashallah! You are making a Difference each week!!
Donate here to help support lives in Yemen through The Zahra Foundation.
You've probably seen images on the news or on social media of the worsening famine situation in Yemen. They are troubling. You can help..
Remember every $175 you contribute supports a family of 7 with clean water, medicine, food for 1 month. In the name of Lady Fatima S.A. donate whatever you can to help alleviate the suffering.
Donate online here and IMPORTANT: remember when you check out to enter 'Al-Haadi' and your child's class (e.g. D3B) in the Additional Information section, so we can track donations by class.
All donations will receive a tax receipt.
The winning class will win a prize!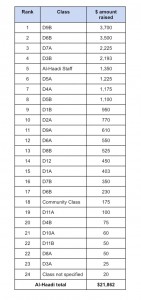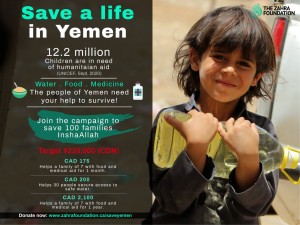 All our previous updates can be seen at www.al-haadi.ca
Jazakallah,
Shelina Dhalla & Fatima Khimji
Principal Vice Principal
Al-Haadi Study Centre
Visit www.al-haadi.ca